As we get set to travel to Uganda once COVID restrictions have lifted, I thought it would be time to refresh my blog with an article about things to see and do in Uganda.
Uganda, otherwise commonly known as The Pearl of Africa is located in East Africa, and in most articles they will usually speak only about Safari but believe me this small country has so much more to offer you, so let's get started. If you are willing to visit Uganda as a tourist or for leisure, here are the top things to see and do in Uganda that you simply cannot miss.
#THINGS TO SEE IN UGANDA ON YOUR FIRST VISIT
#1 Gorilla Trekking in Bwindi Impenetrable Forest
Trekking the gorillas in Bwindi is the one thing you should not miss when you travel to Uganda. Yes, it is expensive at USD 700, but the experience is like no other. Just imagine, walking in a guided group under the forest canopy as you near these gentle giants. 
Once you reach the area where your specific group is, you will have an hour to photograph and observe them in their natural habitat. Believe me, this is one of those heart-stopping moments you will have as you stand in awe among these beautiful creatures.
Unfortunately, last year on our tour, I took ill so I had to miss this but my traveler Kim from Canada recounted her experience in every detail and thankfully my ticket is not lost as it will be rebooked when I am ready to return.
People always ask why it is so expensive to see the Gorillas? 
Each year, the cost to maintain the habitat and employ good tour guides as well as excellent rangers to guard against poachers goes up, so they have no choice but to raise the rates. At least you know that Uganda keeps their gorillas very well protected and that this is something they realize is of utmost importance for conservation.
TIP – Uganda only gives out a limited number of daily passes available to trek the Gorillas so make sure this is the first thing you book and then make sure you also book your lodging (you can read my list of suggestions on my blog), as both fill up fast and you don't want to miss out.  
Need help booking your gorilla trek? Contact our tour guide Venex at Rwenzori Safaris. He is an expert in assisting foreign travelers to see the "real" Uganda and will also take you to some of the hidden spots I reveal below 🙂
#2 Safari
Uganda is home to 10 National Parks and we will visit more than a few of them on our photo tour to Uganda. I would suggest that you not only visit the bigger parks such as Queen Elizabeth National Park, Murchison Falls National Park and Kidepo Valley National Park, but the best one, in my opinion, is the smallest, Lake Mburo National Park. Lake Mburo is my favorite because you get to get out of the car and walk among the Grevy's Zebra and the Rothschild Giraffes at your leisure as well as many other animals and birds in the park. The lions and leopards disappeared many years ago from loss of habitat and thus it is completely safe to walk the park.
Tip – make sure you have good hiking shoes or boots as you will need them for trekking the gorillas, chimps, and climbing to the top of Murchison Falls.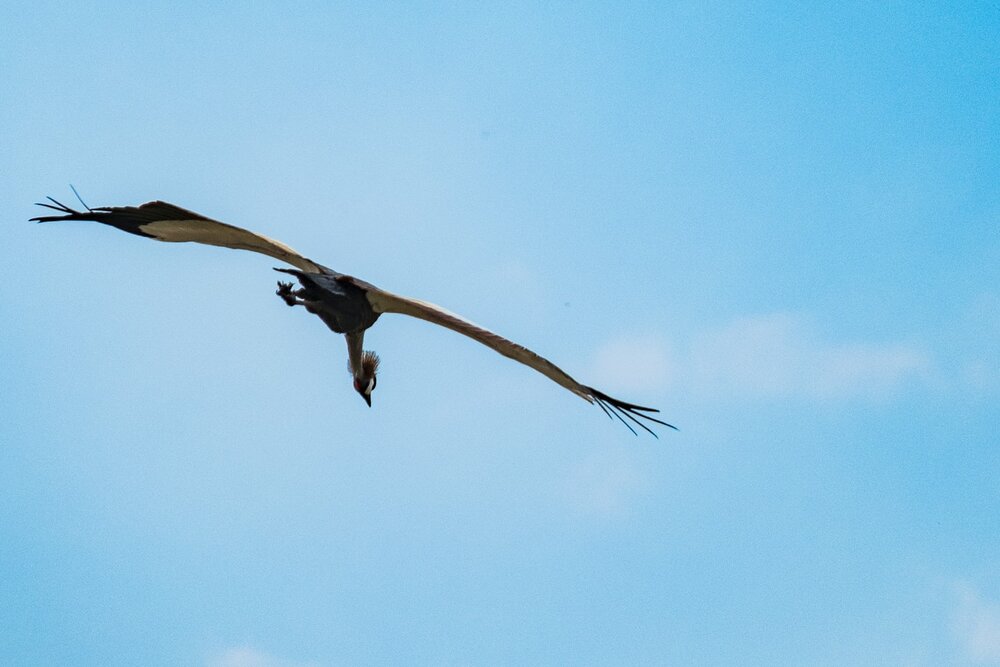 #3 – Murchison Falls
At Murchison, you will not only see the safari but you will also get the opportunity to hike up to the top of the falls. Of course, you can also drive to the top of the falls, but in my opinion, that takes the beauty out of the experience. While hiking to the top you get amazing views the stunning waterfall formed from the River Nile's flow is forced through the 8-meter gap, known as the Devils' Cauldron. The limestone caves that surround this area and lead into the cauldron are also breathtaking.
Don't forget to keep your eye out for the crocodiles, Rothschild giraffe, warthogs, water buffalo's, hippos and elephants as well as lots of monkeys and birds that line the shore.
#4 – White Water Rafting in Jinga
Jinga is one of the best places to white water raft and is known as the adventure capital of East Africa. At the start of the White Nile, Jinga offers travelers the opportunity to white water raft, bungee jump, kayak, and mountain climb. You will not be bored in Jinga.
Looking for something a little quieter? Jinga is also home to "Old Indian Town" – which still stands years after we were exiled by Idi Amin in 1972. My family had businesses there and we will visit this area on our next trip to Uganda.
#5 – Chimp Trekking
Chimp Trekking in Kibale Forest is similar to the Gorilla Trek in Bwindi, however, it is much easier as it is flat through the forest. These creatures stand tall and when they call to each other, the shrieks and screams will make the hair on your head stand up. 
It's scary and exciting at the same time.  
On my first trek two years ago, one of the male chimps came bounding through the forest and we were told when this happens not to move so I stood stock still and as it came closer, I could feel it's breath on the side of my face. I thought I was going to pee myself but luckily held it together to get one shot of it as it scampered up the tree.
On my last trek, we stood under the family of chimps as they ate figs in the trees. All of a sudden, we were running through the forest floor through the mud trying not to fall, when we came upon a clearing, where two male chimps were sitting grooming themselves. The clearing was surrounded by many photographers as we all stood to snap away to our hearts' content. My guide remembered me from the year before so gave us an extra 45 minutes. Making eye-contact with the bigger of the two male chimps was a once-in-a-lifetime moment I will never forget.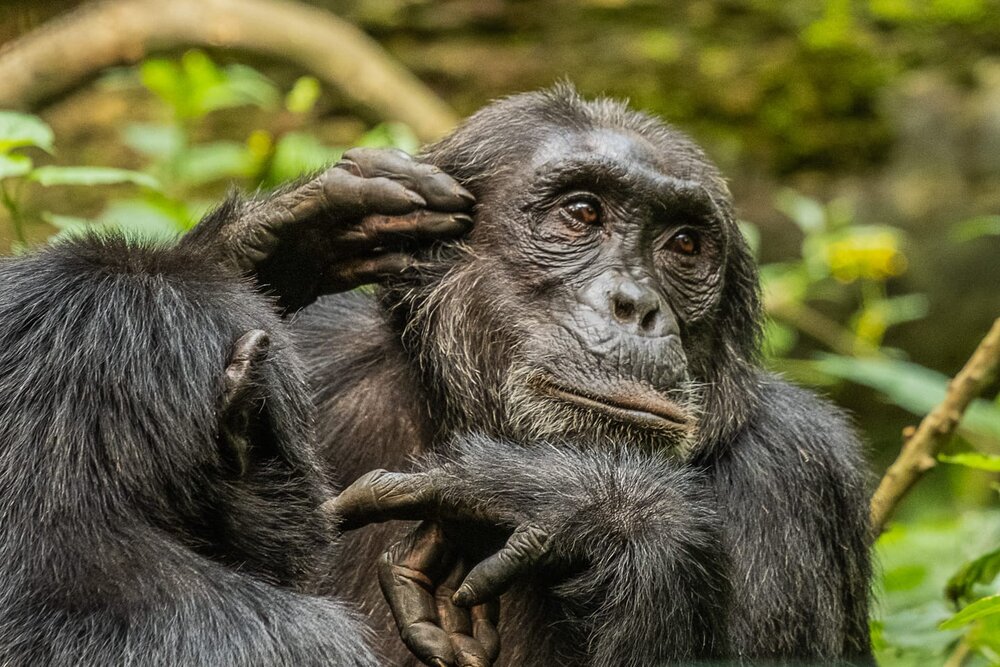 #6 – Amabere Ga Nyina Mwiru
This is one of those hidden spots I referred to earlier. Near Fort Portal and a day after completing the chimp trek in Kibale National Forest, I was shown a place called  Amabere Ga Nyinam Wiru, an open cave steeped in local legend. If you don't know where you are going, you would miss the entrance to the park, the caves, and the hidden gems to be found, such as the caves, the waterfall, the stalagmites, and stalactites.
Amabere Ga Nyina Mwiru means "the breasts of Nyina Mwiru. The legend surrounds King Bukuku of Toro a region in Western Uganda. He chopped off the breasts of his daughter Nyina Mwiru and threw them into the caves, following a prophecy that came to him in his dreams that said his daughter would marry, have a son that would then kill the King and take over his throne. 
While the prophecy did come true, there is a scientific explanation for the so-called breast like stalactites that are apparent in the caves. They are a mix of calcium carbonate blended with water, which drips down from the rain that comes from being an open cave. The local people refer to it as "breast milk".
Aside from the caves is the stunning waterfalls at the base of the cave. I did not carry my tripod as I hate to carry it so pulled out my handy sandbag (empty of course when traveling) and filled it with the sand on the water's edge and then lay down on the rocks to take shots of the water as I wanted a silky effect.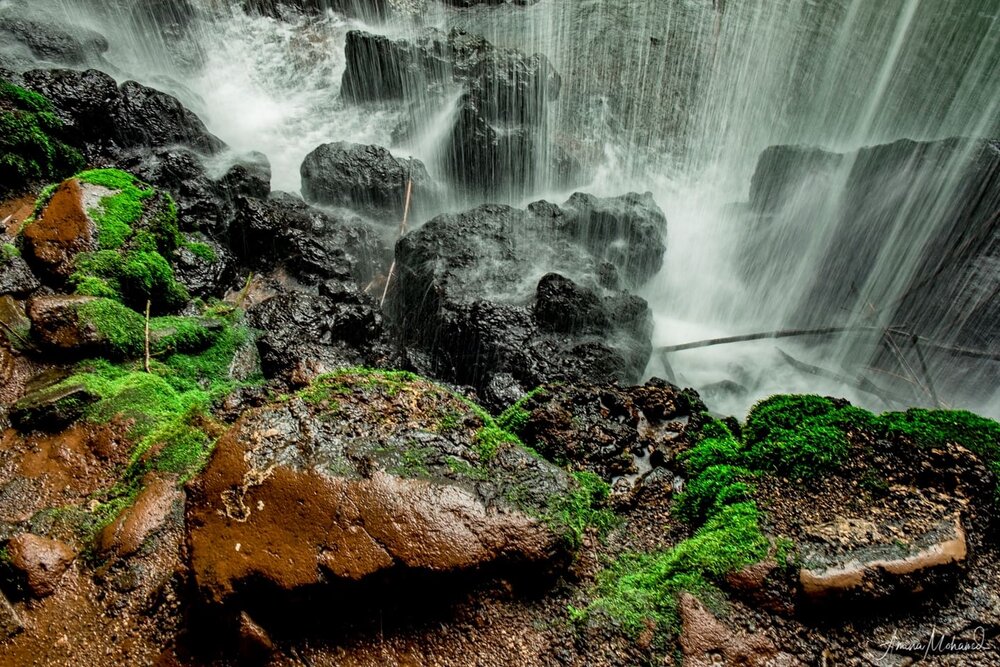 #7 – Semuliki National Park
This park is one of Uganda's newest national parks and is also the only lowland tropical rainforest to be found in Uganda. You will not usually find this on a tour to Uganda but we think it's beautiful so we make sure to try and visit each time we go.
Semuliki is also one of Africa's most ancient and bio-diverse forests; one of the few to survive since the ice age 12-18,000 years ago.
The major feature of the park is the male and female hot springs. 
To get there, you must go through the dense forest, which luckily is populated with over 400 recorded bird species and over 50 different mammal species including numerous types of monkeys.
A popular thing to do is to bring your food and especially your eggs and boil them in the sulfurous waters at the female hot springs. However, you must be careful to avoid stepping into the waters as you can easily burn.
TIP – When photographing at the hot springs, make sure you have a clear plastic bag to protect your camera. I usually carry the  Op/Tech Rain Sleeve in my camera bag so I can pull them out when needed. Otherwise, you risk having the high temperatures melt your camera.
#8 – Lake Bunyoni
Lake Bunyoni is believed to be the second deepest lake in Africa, after Lake Tanganyika in Tanzania. Close to the Rwandan border and surrounded by lush hills, Lake Bunyoni has 29 different islands you can visit.
While there we took a boat ride and saw a few of the islands and the fisherman who call this area home. They were on the shores weaving fishing nets and building fishing boats.
We visited the lovely Arcadia Lodge with outstanding views of the valley and the water. It was nice to sit on the terrace and drink passion fruit juice while resting after our boat ride. 
The temperatures in this area are not too hot nor too cold so it makes it nice and temperate.
Some of the other things you can do is go swimming. I mention this because you cannot swim in any of the other waters in Uganda. Unfortunately during the time of British rule, the waters were infected with Bilharzia (found in many places in South Africa) and if you swim in this type of water, you can become very ill. Thankfully it is not found in Lake Bunyoni.
Also because the waters are calm and lack crocodiles and hippos, you can also go canoeing. You can choose to rent your own and take a leisurely ride or go on a guided tour. 
We chose the latter and while on the tour were told about the myriad stories and legends that exist around the history of the lake. Read more here.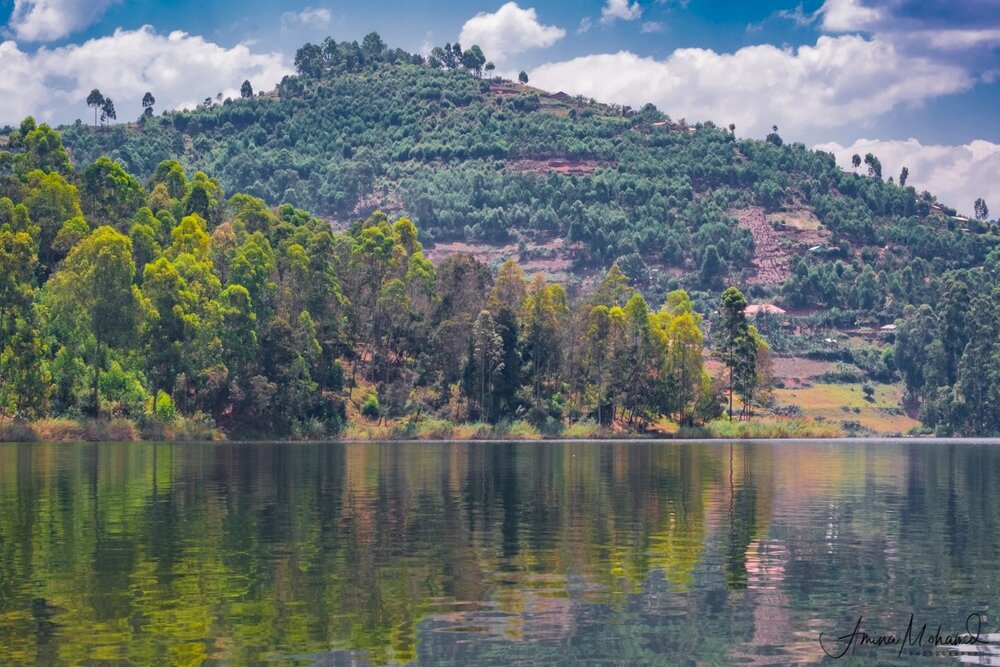 #9 – Rwenzori Mountains
If you are a mountain climber, this mountain is for you! The Rwenzori Mountains became a UNESCO World Heritage Site in 1994 and the highest peak is known as Margherita Peak. The mountain range lies between Uganda and Congo and the locals refer to it as the Mountains Of The Moon, which was described by the geographer Ptolemy in the 2nd century. When standing at the bottom you can see the snow-capped Margherita Peak, on a cloudless day.
I am not a mountain climber but I did go to the first base easily and was looking for the famous green chameleon that calls this area home, but no luck. My friend and tour guide in Uganda, Venex has the best luck in finding them every time he goes.
On our last tour, we met a German couple who had just finished the climb, and as avid worldwide travelers and mountain climbers, they insisted this was more difficult due to the muddy terrain, even in the dry season. They had done Kilimanjaro the previous year and thought that Rwenzori was more beautiful as well as difficult.
At the base of the mountain is the Rwenzori National Park and here you can see the history of the mountains as well as gorgeous lakes, rivers, and waterfalls. We trekked through the forest and came upon awe-inspiring waterfalls, surrounded by gorgeous flora and fauna and hundreds of butterflies that call this area home.
Rwenzori is also home to the Bakonzo tribe, and we were graced with a private dance reception when we arrived in the area.
TIP – You will need your hiking shoes and/or boots when climbing this area or even trekking the park. If you do decide to wear sandals into the water, make sure they are waterproof. I carry my trusted Keen sandals, which are quick to dry due to their rubber insoles.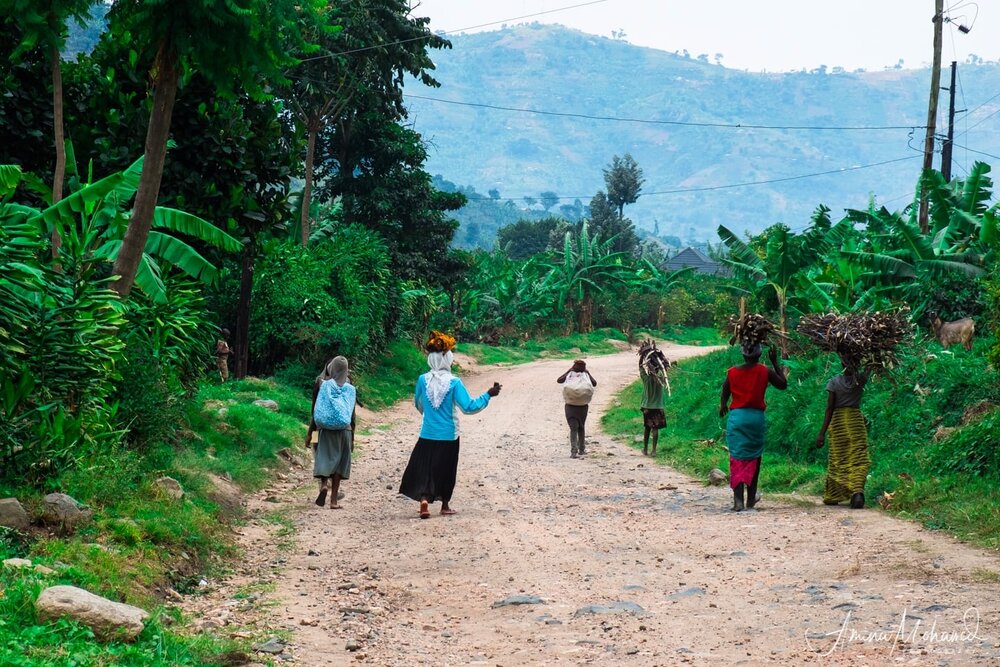 #10 – Crafts & Culture
Going to Uganda, you cannot miss the opportunity to purchase locally made crafts or take a drumming or dance lesson, given by the locals. Going to another country is not only a great opportunity to see what makes it different but it's also important to experience the culture.
Uganda is home to 54 different ethnic tribes and they express themselves through their music and their dances. Getting a lesson is amazing and watching their hips gyrate and trying to emulate them (and not feel the pain the next day) is just as much fun. 
I love visiting the various craft fairs that exist everywhere. You will likely see the same crafts everywhere but you will also see unique paintings. I make sure to bring one home for myself and a bunch as gifts for family and friends. Not only are they beautiful pieces of art but they support the local economy as well.
So, there you have it – the 10 best things to see and do in Uganda. 
Have you been before? Did I miss anything on my list? Let me know and I will be sure to update my list 🙂