Nowadays, all we want is that Instagram shot. The one that we have seen to so many others, and we don't care that we will just duplicate content, we want to make sure we are getting that shot – it's like a confirmation to us and the rest of the world that we are influencing.
Amsterdam has a lot of Instagramable spots – and here are the 4 most Instagramable museums in Amsterdam.
MOCO Museum
Moco museum stands for Modern Contemporary Museum Amsterdam and it's a private museum that has been open for some time now, and it's located right in the heart of Museumplein, in Villa Alsberg, a few minutes' walk from Van Gogh museum and Rijkmuseum. It is already known for its inspiring and contemporary art. From the Rock stars of Art, such as Banksy and Dalí. At Moco, you discover works that you will not easily encounter elsewhere.
In front of the villa, red hearts ballons swing back and forth in the wind. A detail that refers to my favorite work from Banksy: The Girl with a Balloon. Once inside, you immediately see her on the wall. But the interior of the mansion is also a feast for the eyes. The property has been completely restored to its original state.
In the authentic rooms, you can see the most diverse works by Banksy. Not only on canvas on the wall but also street work on a cut-out piece of wall. The biggest surprise awaits you downstairs.  There is a film in which people are hunting for the person behind these works of art. Because that's what makes it so mysterious: no one has ever seen him. 
There are always temporary exhibitions – so a good idea is to visit more than once.
Below, a virtual tour of the museum.
Click here to get your Moco tickets.
Address: Honthorststraat 20, 1071 DE Amsterdam
Youseum
Youseum is an art experience built just for YOU. Because you are one-in-a-million and one-of-a-billion! Youseum is considered one of the most Instagramable museums in Amsterdam, and it's all about you. They have 25 experiential elements and 15 rooms.
The tour of the museums starts with the philosophy around the museum and how the experience will be all about you. It needs to be, right?
In this initial stage of the tour, you will be asked to write down on a piece of paper something negative about yourself, that you can get rid of at the end of the tour, as you will be a different YOU, a better you!
From here, you go to two different rooms, which are focused on Money! Of course, being famous, means also you have money! Or maybe not! I can't tell for sure, since I haven't experience fame yet!
One of the rooms is actually a vault, full of gold – the idea behind that room is that the building where Youseum is found, was previously a bank, and they had a vault! A smart way of keeping the vault intact!
As I mentioned at the beginning, Youseum is a museum about you. As they clearly put it at the end: You are a work of art! I won't spoil all the rooms, but definitely it's worth going there.
Click here to get your Youseum tickets.
Address: Weesperzijde 150, 1097 DS Amsterdam
Upside Down Museum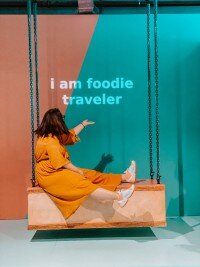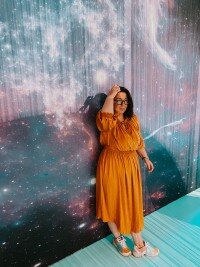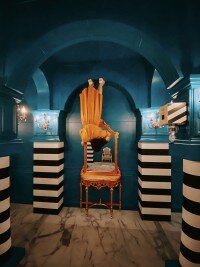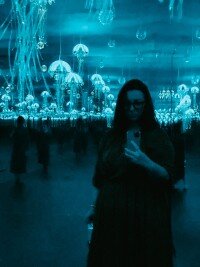 The Upside Down in Amsterdam is an interactive experience. The strange thing here is that you can touch everything, which usually you wouldn't be able to do it in a museum! Actually, you will be encouraged to touch everything. It's the perfect museum for Instagramble photos, but it's also the place from where I posted my first Reels on Instagram (check it out!)
The Upside Down museum declared itself the biggest Instagram museum in Europe, and even though it's not the first, definitely it's worth the visit!
The museum was founded by a very famous Dutch influencer and it opened in July 2020 with the theme "New Dutch". Therefore, you will get to notice a lot of Dutch elements, but not the typical yellow wooden shoes.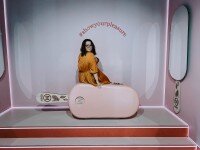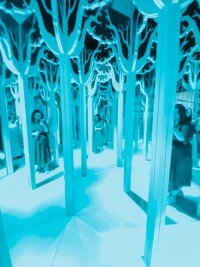 It's really cool that everything is arranged in such way that the elements are all on the ceiling and therefore, once you took your photo, you need to rotate it 180 degrees to notice the upside-down view.
One special thing I liked in this museum is the commitment to work with several foundations that are helping the one in need. The perfect example is the teddy bears room, created in collaboration with a foundation that helps children that are coming from families with problems, and often they are overlooked by their parents.
Click here to get your Upside Down tickets.
Address: Europaboulevard 5, 1079 PC Amsterdam
WONDR Amsterdam
Wondr is a pop-up experience in Amsterdam that will help boost your Instagram account. With several rooms, the museum promises to invoke inspiration, fantasy, and pure joy, a dazzling adventure created to engage all of your senses in unexpected ways.
Get lost in an otherworldly jungle. Dive into a sea of pink marshmallows. Dance under a glittering sky. Write on the walls. Jump in the largest ball pit you've ever seen. Sing your heart out. Let your imagination run wild and experience the art of play. All these have been designed by several creative minds and are all available in Amsterdam.
There are 15 rooms at Wondr, one more Instagrammable than the other, and all available in a building that used to be a gold factory closed in 2017.
Address: Meeuwenlaan 88, 1021 JK Amsterdam
Which museum will you visit first?
Did you know I offer food platters workshops in Amsterdam? Check out the available dates.