The breathtaking beauty and picturesque landscapes for socially distant activities are just a few reasons why you should be adding a trip to the below National Parks to your #BucketList. Allow Andiamo to curate an unforgettable trip to a National Park for a vacation that will include adventure and all of the beauty nature has to offer as well as the addition of a luxurious accommodation to unwind in at the end of the day.
#1. Antelope Canyon
Characterized by a mesmerizing collection of red rocks, pink cliffs and endless vistas, Antelope Canyon is one of the most incredible places in the US in our books! Antelope is made up of a series of natural amphitheaters or bowls carved into the edge of a high plateau. The canyon is a popular hiking destination and is great for hikers of all levels, since the four main viewpoints can be found within the first few miles of the trek.
Andiamo Pro Tip: head over to Sunset Point where you will take in the most awe-inspiring views (and Instagram-worthy photo ops)
Where to stay: Amangiri (Canyon Point, Utah)
Amangiri, meaning "peaceful mountain", is a resort that puts you right in the middle of the ancient splendor of the Colorado Plateau. The ultra-luxurious hotel offers panoramic views of the spectacular eroded rock formations and is located in the region of the United States that contains the greatest concentration of National Parks and Monuments. Amangiri is approximately a 2hr drive from the Grand Canyon and Bryce Canyon, while also sitting just 15min from stunning Lake Powell.  The award-winning experiences team is available around the clock to cultivate the most unforgettable experiences for their guests, ensuring they experience the true beauty of the American West. Offering a contemporary take on luxury in its accommodations, service and food, Amangiri has become an A-Lister enclave in the high desert of Utah.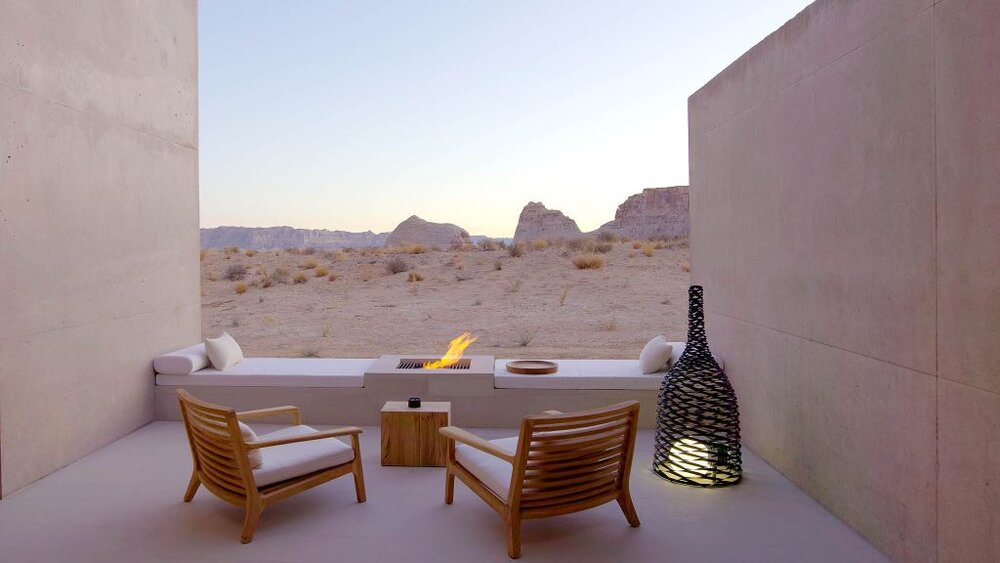 #2. Yellowstone National Park
Yellowstone holds the badge of honor as the first National Park in the United States and is truly one of nature's miracles. The park covers ground in both Wyoming and Montana and can be easily accessed from both states. Visiting Yellowstone is like stepping into another world – colorful hot springs, a myriad of different foliage and breathtaking waterfalls. It's easy to understand why Yellowstone remains one of the country's most popular national parks with millions of annual visitors. Situated on top of a dormant volcano, Yellowstone is home to more geysers and hot springs than any other place on earth and is home to the famous Old Faithful geyser. Here, you can expect to see some of America's largest buffalo, grizzly bears, and wolves.
Where to stay: Sage Lodge (Pray, Montana) 
Picturesque scenic beauty, ranging from mountain peaks to rolling rivers and expansive landscapes that are completely unique to the American Northwest. In Montana's Paradise Valley, the surroundings are peaceful and evoke a strong sense of adventure. The location of Sage Lodge ensure that guests can participate in an adventure-filled day of fly fishing, hiking, biking, and hunting in the comfort of their own backyard. The luxury lodge aims to deliver upscale cabin accommodations with the comforts of home. Dine at the signature restaurant on property, the Fireside Room, for a classic Montana-game inspired meal.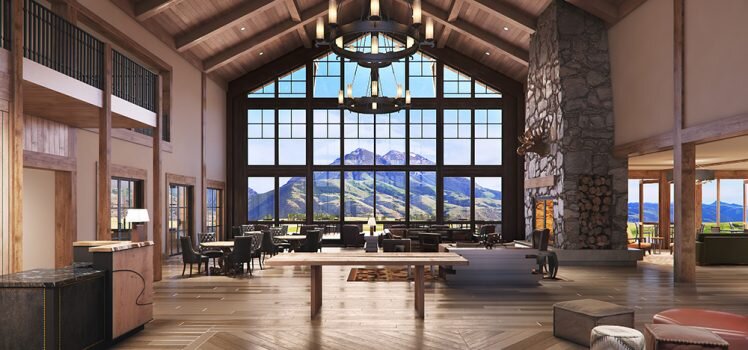 #3. Moab National Park
There's no place on Earth quite like Moab, Utah – which is probably why so many guests travel here year after year to hike, bike, raft, and enjoy the otherworldly scenery. Moab holds a reputation as a gathering place for outdoor recreation and adventure with the backdrop of its infamous on the red-stone terrain. Visitors are encouraged to participate in reflective moments that make Moab enchanting, such as watching the sunrise at Delicate Arch, or listening to the sound of the Colorado River in the distance. 
 Where to stay: Sorrel River Ranch 
This exclusive 240-acre riverside oasis is surrounded by the most spectacular scenery in Utah, such as the iconic arches, canyon-lands, and red rock mesas. The custom-built cabins, each equipped with private decks, combine luxury with awe-inspiring views. Each beautifully appointed accommodation features a custom rustic style inspired by the American West and serves as a relaxing escape after a long day of adventure. The spa brings nature into each experiential treatment, and is the perfect way to compliment your high-energy ranch activities during the day. At Sorrel River Ranch, you'll discover adventurous activities, farm-to-table meals, and an experience that is guaranteed to bring you one with nature. 
#4. Zion National Park
Utah's spellbinding desert and high-altitude forests are just a few of the wonders to discover in heavenly Zion. This red-rock wonderland was created by wind, water and snow, drawing many nature enthusiasts each year to observe the wildlife. According to National Geographic, the Park's ecosystems host over 800-native-planet species. Zion is also home to many water falls with swimmable features. For those who crave adventure, Zion National Park offers hiking, rock climbing, designated swimming areas and winter cross-country skiing trails. For those thrill seekers we love, Zion has teamed up with highly vetted professionals who provide helicopter tours for a birds eye view of this majestic destination.
Where to stay: Under Canvas Zion
For those who want to try something out of the box, Andiamo recommends a "glamping" experience within the national parks. Glamping is a portmanteau of "glamorous" and "camping", describing a our favorite style of camping: one with luxurious amenities, real beds and plugs for your phones! Glamping has been one of the hottest trends in travel for a few years, but is continuing to gain momentum as guests look to travel and distance themselves from shared spaces and lobbies offered by hotels and lodges. Under Canvas has a spectacular campground within Zion National Park that offers incredible experiences that allow guests to become one with nature. The amenities include daily housekeeping, organic bath products, on-site dining, personal guest experience coordinator for all of your needs while on property as well as activities packages. Under Canvas' safari-inspired glamping destination is a haven of solitude in the American Southwest, surrounded by views of sandstone cliffs and majestic red rock.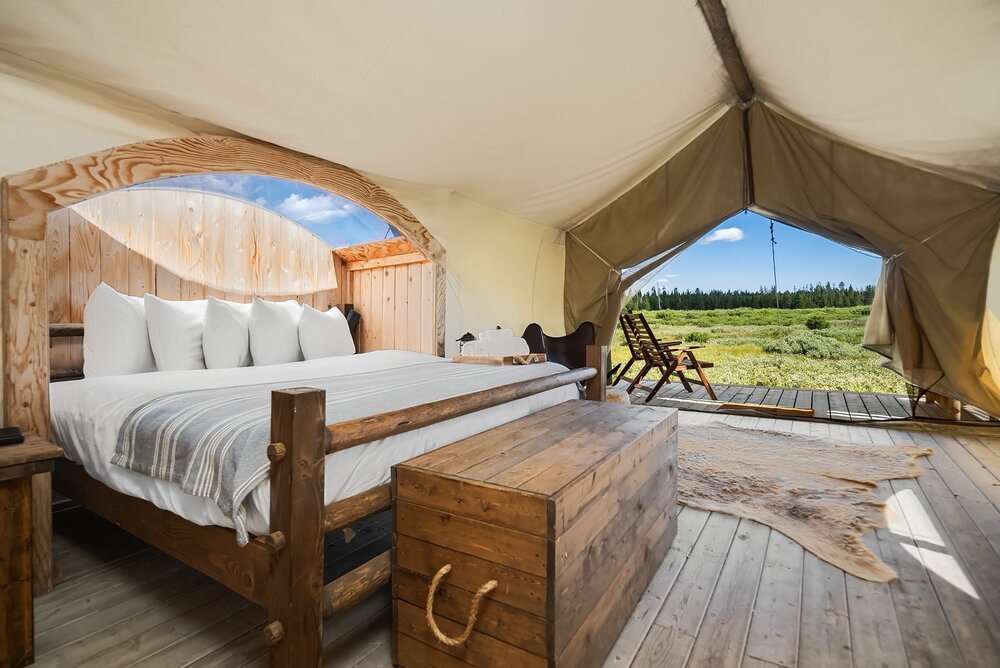 Grand Teton National Park
The Teton Mountain Range rises above a scene rich with extraordinary wildlife, beautiful lakes and rugged terrain. The Grand Teton National Park invites visitors to explore over 200 miles of hiking trails, drift along the Snake River and soak up the serenity of this remarkable place. Grant Teton attracts more adventurous travelers than neighboring Yellowstone as the hiking is a bit more challenging than other National Parks due to the rugged nature of the landscape and the high elevation. This Park is Ideal for wildlife enthusiasts as it is home to abundant forests, wildflowers, and unique wildlife such as golden eagles, black bears, bison and coyotes. For a completely unique experience, allow Andiamo to arrange a private hot air balloon ride to take you over the Grant Teton National Park!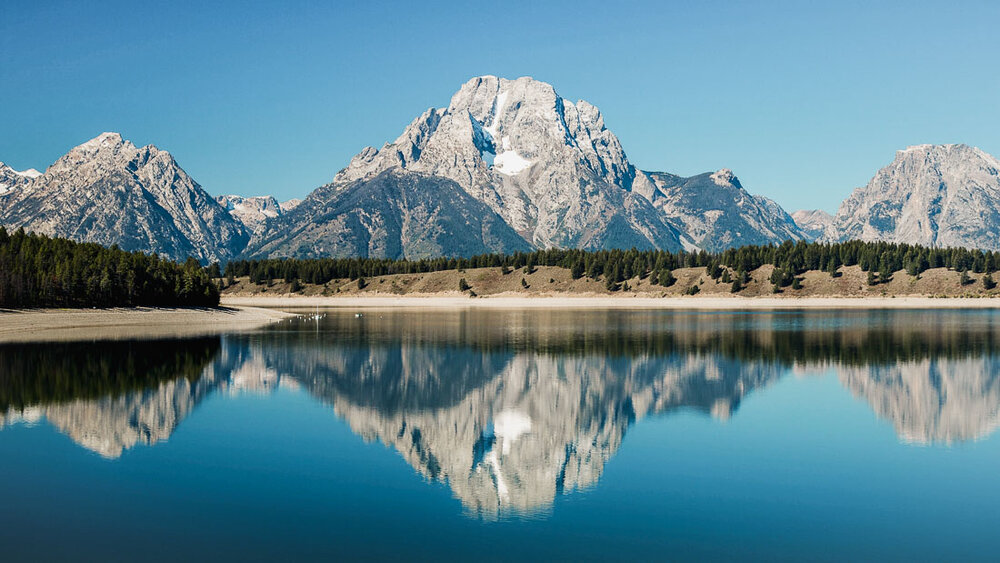 Where to stay: Amangani (Jackson, Wyoming)
Meaning "peaceful home", this five star resort offers magnificent views of the Grand Tetons and Snake River Valley, and each suite includes a private balcony or terrace for your viewing pleasure. The world-class spa offers a range of morning yoga classes, revitalizing massages, and other treatments focused on complete relaxation and renewal. The culinary experience features farm-to-table dining that highlights organically sourced meats, chops, and seafood. Known for their plethora of outdoor activity offerings, Amangani focuses on Alpine skiing in the winter, and nature treks, guided wildlife tours, and fly fishing are all the rage during the summer and fall seasons.