While we were in North Carolina a lovely lady named Gilda reached out to us on Facebook and invited us to her restaurant. We were giddy, y'all! Someone was reaching out to us, inviting us to eat at their table. Without hesitation we made time in our schedule and popped in for lunch at Rose and Daisy.
Gilda and her son, Eric, created a beautiful spread and we all ate together. Like family. It was incredible.
Gilda and her son, Eric, came all the way from New York to open this family owned Italian restaurant. It's named after Gilda's grandmother's, Rose and Daisy, both of whom came over from Italy to Ellis Island in the early 1900s.
Rose's family settled in Brooklyn and Daisy's in Jersey City, New Jersey. Both of them believed that food and love spoke the same language. 
To honor their memories almost 100 years later, Gilda opened Rose and Daisy with the mission to serve homemade Italian Cuisine made with love. They're using there recipes passed down from Gilda's grandmothers. You can taste the love in every bite and the homey atmosphere wraps you in its warm embrace as soon as you walk in.
We started with freshly made garlic bread and Caprese salad.
Everything at Rose and Daisy is fresh, homemade, and you can taste the difference. They use FRESH garlic, FRESH herbs, FRESH produce. You get the point.
So naturally the Caprese salad was as good as it gets. Classic and simple just like it should be.
The garlic bread had that crunch we're always looking for. The garlic flavor wasn't overpowering, and it made for a great tool to collect all of the sauce leftover on our plates.
Gilda and Eric served three different main dishes and every single one was delicious and fresh. They let us try one of their housemade red sauces and housemade white sauces. Yes, everything is made in house, and, yes, it makes a huge difference.
We had their DELICIOUS red sauce on the Gnocchi Sorrentino. It's homemade ricotta gnocchi with that fresh marinara sauce, finished with melted fresh mozzarella. The gnocchi was so soft and perfect and delicious. Honestly, everything about it was amazing.
They carefully chose the perfect ricotta for the job and tested a ton of options until they found one that was smooth and creamy enough to be worthy of this gnocchi.
We had the white sauce in their Pasta Michelangelo. The sauce was smooth and creamy, beautifully coating the al dente penne pasta. Then for a little extra protein and deliciousness you also have creamy coated chicken. It's healthy then, right?
If you're a pasta lover then we can pretty much guarantee you'll love this. We definitely did!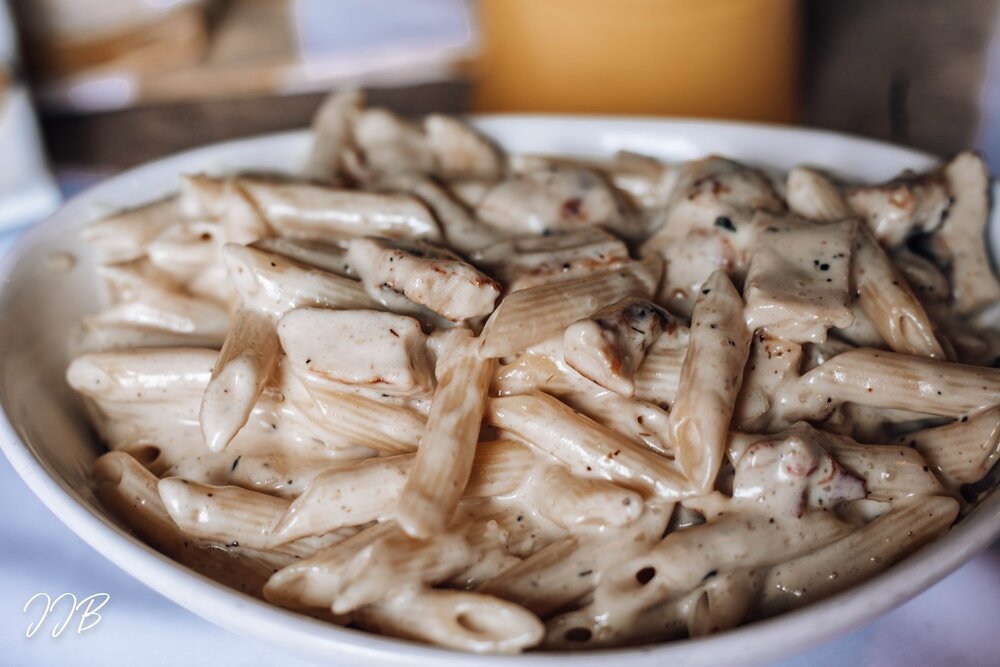 Finally, they switched things up with Chicken Francese. It's lightly floured and sautéed in butter and a white wine-lemon sauce.
The flavors are so full and bright and light. There's nothing heavy and weighed down about this chicken, and you'll want to keep eating and eating.
For dessert we got to try their two specialities: cannolis and cheesecake.
The cannolis are pure. They have that crispy cookie shell with a thick, fluffy cream inside. Often when you get cannolis the cream can be grainy (not these!) or it's filled with extra fluff like pistachios and chocolate chips (not these!). But these were truly cannolis in their purest most beautiful form.
The cheesecake is a classic Italian style ricotta cheesecake. We tried the plain, blueberry, and cherry. All of which taste like love whipped together with some sugar. Absolutely delicious!
Attached to Rose and Daisy is the Landmark 1896. It's their event space and when you walk in there are so many beautiful table settings to look at.
They'll host your event, decorate it, plan it, photograph it, cook for it, and basically do everything you can think or or need. And at Christmas time, this place will be filled with themed Christmas trees.
A very special thank you to Gilda and Eric for reaching out and allowing us to come in and feature Rose and Daisy! We felt like family and cannot wait to come back.
If you'd like to support this wild ride, become a Patron, we have some awesome reward tiers. Sometimes we even pick up little gifts for you along our travels.
Pin this post with the graphic below: