As many of you know (if you follow us on social media @joanieandjennib), we have a cute little doggie named Clyde. So when we saw Clyde's Table & Tavern pop up along our Georgia journey, we couldn't pass up the chance to check it out.
Thank goodness we stopped in, y'all! It turned out to be such an amazing experience! Check out the video…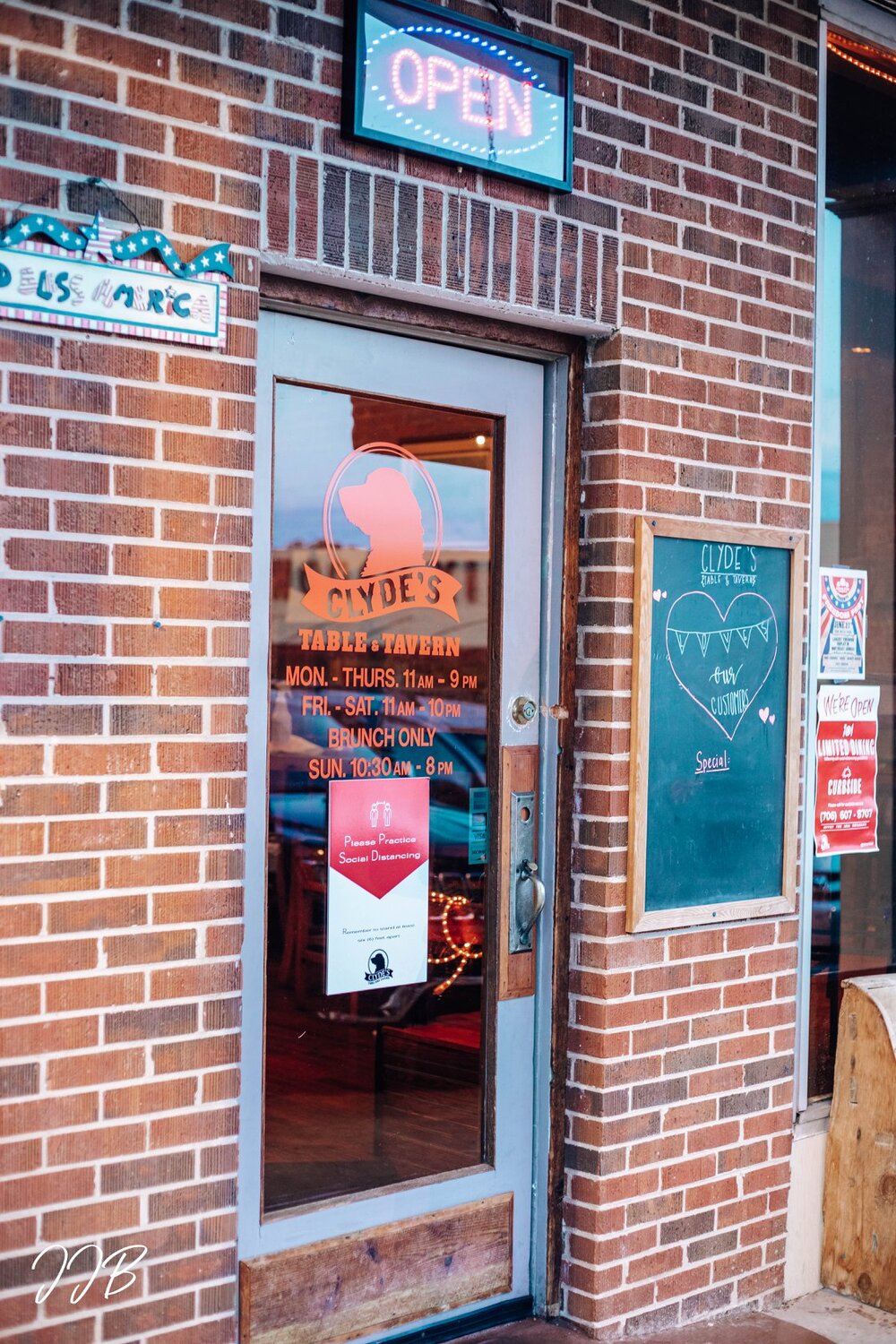 We were overwhelmed by the options, even on their reduced COVID menu, but knew we had to try the fried banana pepper rings and jalapeño grit fritters. 
Y'all. These fried banana peppers changed our tastebuds and our lives. They are incredible. Mind blowing. Never been done before. We would drive five hours just to eat these, because they are that good.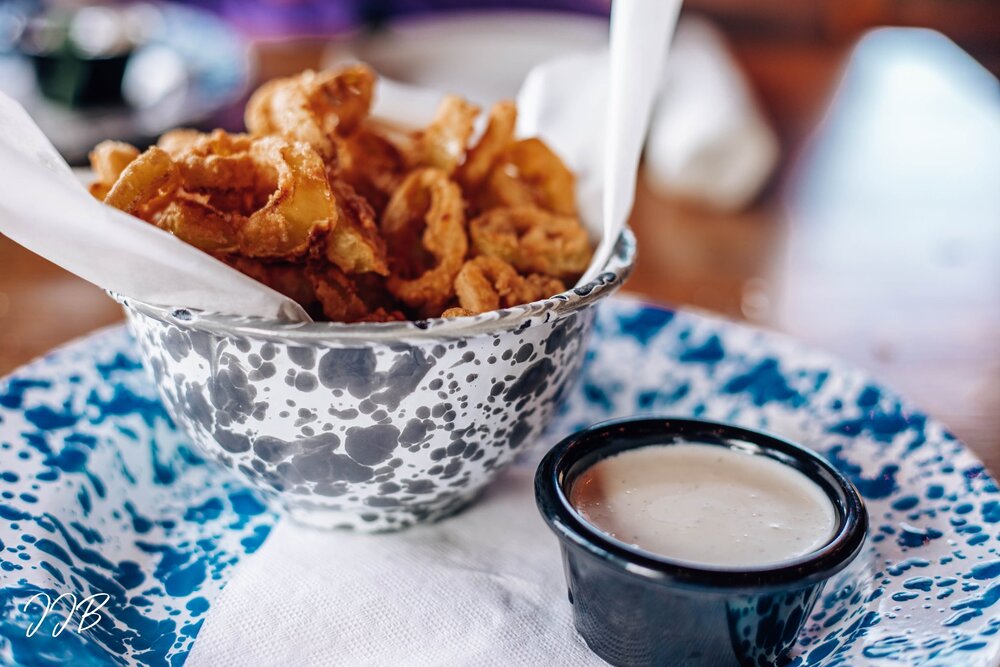 The fritters are exactly what they sound like – Clyde's house made jalapeño grits deep fried to golden brown perfection served with jalapeño ranch. Again, these are amazing. Delicious without the dip, but add that jalapeño ranch and your tastebuds will be singing the hallelujah chorus.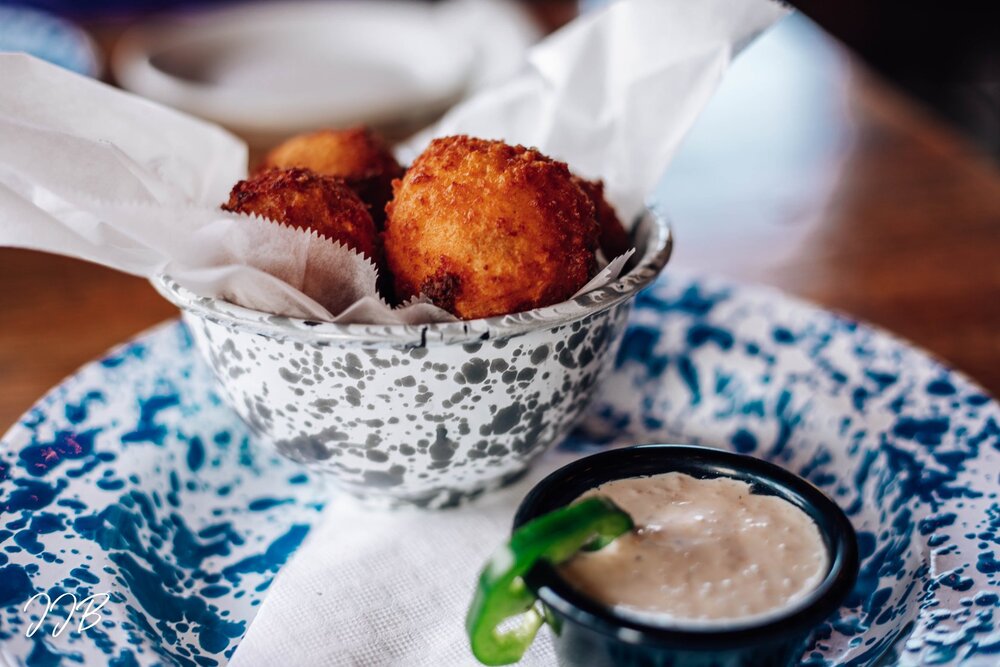 For our meal, we decided on the homemade, hand battered and fried chicken tenders with greens and Mac and cheese. 
The chicken tenders had the perfect amount of spice and crunch. You can add a little bit of sweetness by diving into Clyde's special honey. There are also other sauces available like sriracha honey sauce, honey mustard, and more. If you like to dip, go for it, but these tenders are so fresh and delicious that they can go either way.
The greens were that down-home flavor you expect. And the Mac and cheese was balanced to perfection.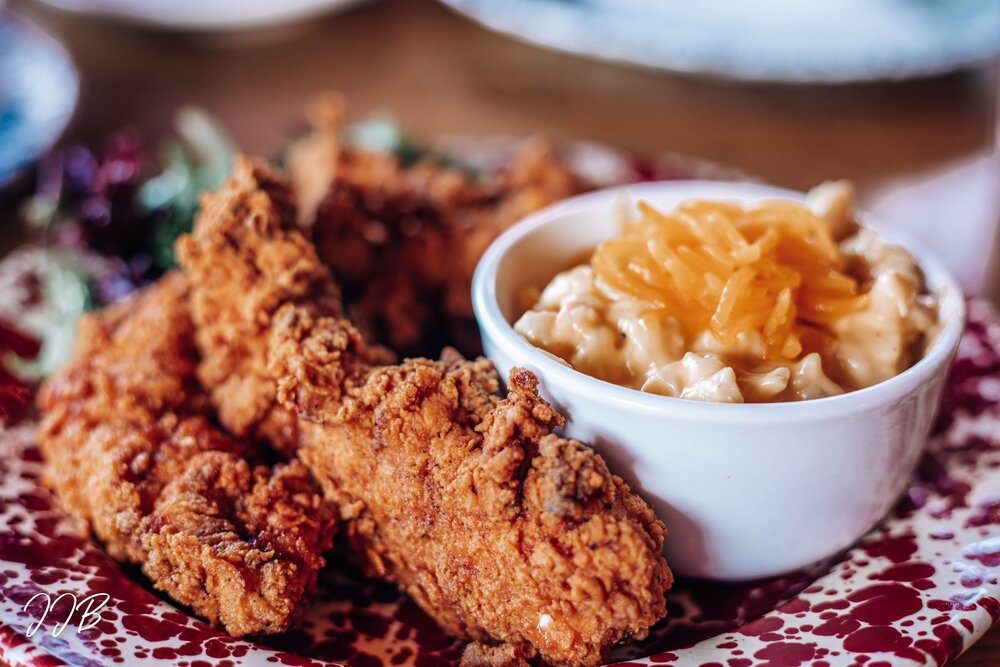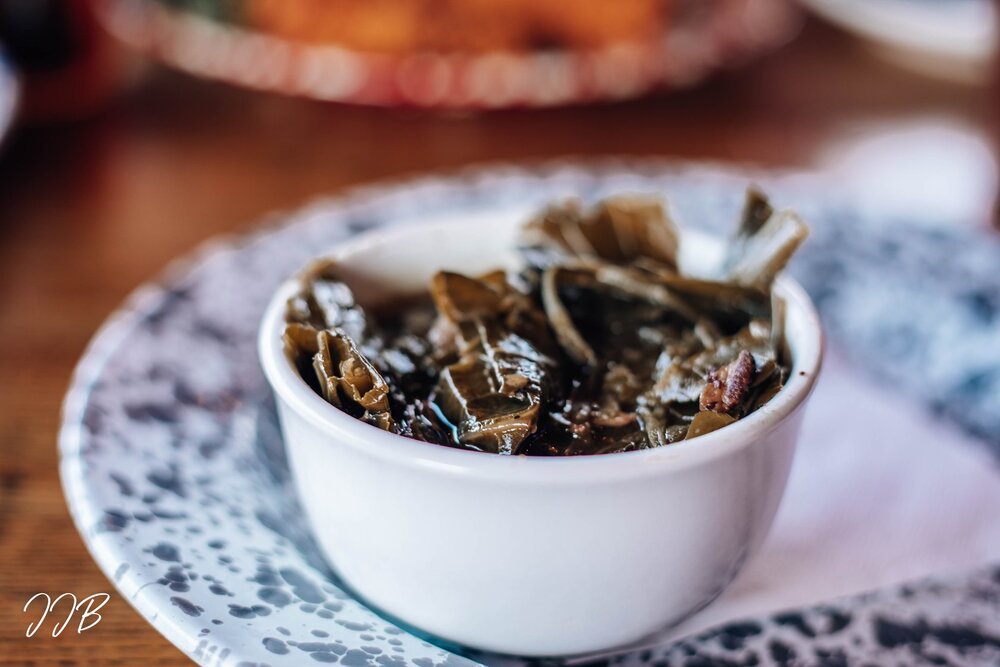 Just when we thought we'd actually gotten a reasonable amount of food for once, Ward brought out a plate of smoked brisket and pulled pork. Holy yum! We're not usually fans of smoked meat, but Clyde's uses pecan wood and that adds just the right amount of mild smoke flavor. The meat is tender and you can dip it in their house made BBQ sauces. Or, like me, go for the plain meat flavor.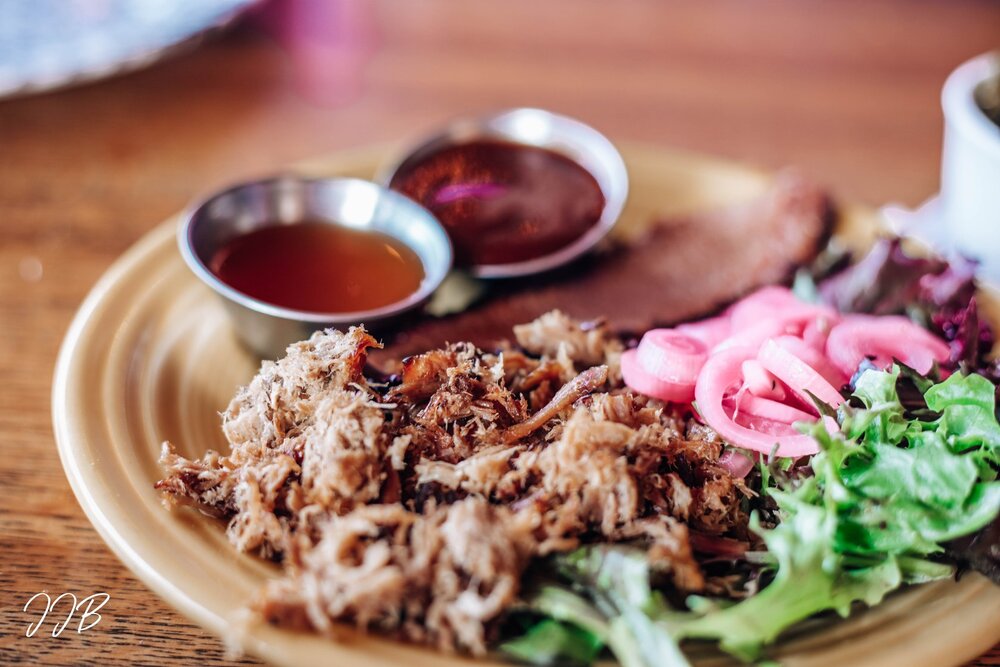 Were we stuffed at this point? Yes. Did Ward bring out dessert. Also yes.
Clyde's famous white chocolate bread pudding served with a white chocolate coconut rum sauce. It was unlike any bread pudding we've ever had. Perfect crispy bits on top and a smooth, soft center. Ward also brought some peanut butter whiskey to wash it down.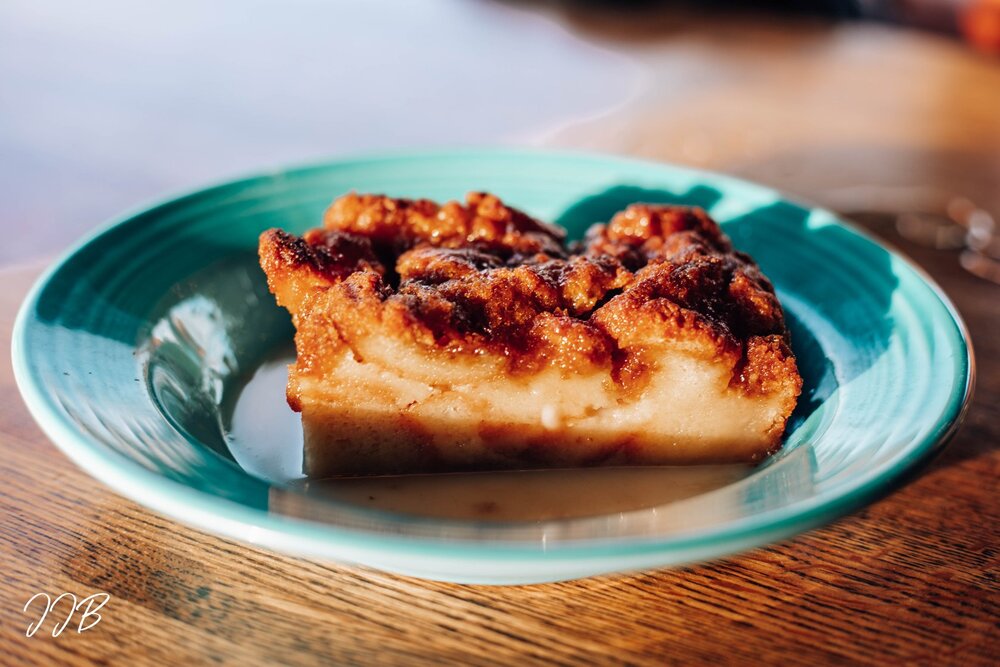 After we finished eating some of the yummiest food ever, we got a tour of Clyde's newly renovated event space. It was absolutely gorgeous!
Jenni is a huge fanatic for exposed brick, so she was basically in heaven in this space.
It's great for rehearsal dinners, wedding receptions, birthday parties, or any kind of party really. They're also adding a TV so it can be used for corporate events.
Just alongside the space is a prep kitchen that'll be used when Clyde's caters your event.
You're allowed to bring in your own decorations, but the space is so gorgeous raw that it could be left as is!
After our tour of the event space, the owner Ward took us down to the kitchen, which was so cool. We've never gotten to experience that, but have wanted to since day one of this journey.
Honestly, y'all, our time at Clyde's was so refreshing and wonderful in every way. The atmosphere is cool and casual. The food is out of this world delicious. The people are a joy to be around. We spent hours here, and still didn't want to leave!
If you're anywhere near Cleveland, Georgia (and I'm talking within a day drive), stop into Clyde's and tell them that Joanie and Jenni sent you. You'll become a life long fan of this place, we guarantee it!
A very special thank you to Ward for allowing us to come in and feature your amazing restaurant. We can't wait to come back to Cleveland and dine with you again.
If you'd like to support this wild ride, become a Patron, we have some awesome reward tiers. Sometimes we even pick up little gifts for you along our travels.
Pin this post with the graphic below: