Hey y'all! Today we're sharing a Conover, North Carolina (and surrounding area) City Guide. It's complete with where to stay, where to eat, and what to do while you're in the area. First, check out this videos for some fun…
WHERE TO STAY
If you're coming to the Conover/Catawba/Hickory/Newton area of North Carolina then there is one stand-out place for you to stay.
It's Sweet Tea Bed and Breakfast owned by Ralph and Patricia Hatch.
The home is one of the most historical houses in Conover, and they've managed to restore it, update it, but still somehow keep the beautiful charm that was built into it 100 years ago. Some of the coolest features are the custom couches in the living room, which were made by the Catawba Valley Community College's Furniture Academy. There was originally only one, but they were able to get a second to complete the look. There aren't any others that look exactly like this. Pretty cool, right?
The dining room table is made from an original pocket door, and it fits the room perfectly!
You'll also find Sweet Tea themed items in every room of the house. It could be a pillow, figurine, sign, etc. When you visit see if you can spot them all.
Another stand out about this B&B is the breakfast. Ralph cooks an unbelievable meal every morning and out mouths are still watering over his eclairs and quiche.
Oh, and there's a 24/7 snack station with full size candy bars, bags of chips, drinks, and homemade goodies (like Ralph's chocolate chip cookies).
If you want to see our more in-depth review you can check out the blog post here or the YouTube video here.
WHERE TO EAT
If you've been reading this blog for a while or know us in real life, then you'll know we're self-proclaimed foodies. We love finding awesome restaurants in the places we visit. For the Conover area we have four suggestions that'll leave you satisfied. They're in the order in which we ate at them, not in any type of ranking. We loved all of them!
Fresh Chef's menu has everything from ribs to shrimp and burgers. Everything is delicious and, as the name suggests, fresh. We went to the Conover location but they also have restaurants in Cornelius, Mooresville, Matthews, and Denver (all North Carolina).
The service is fairly quick for a sit down restaurant, food is yummy, and the prices are affordable.
If you want a more comprehensive review, you can check out the blog post we did just for Fresh Chef.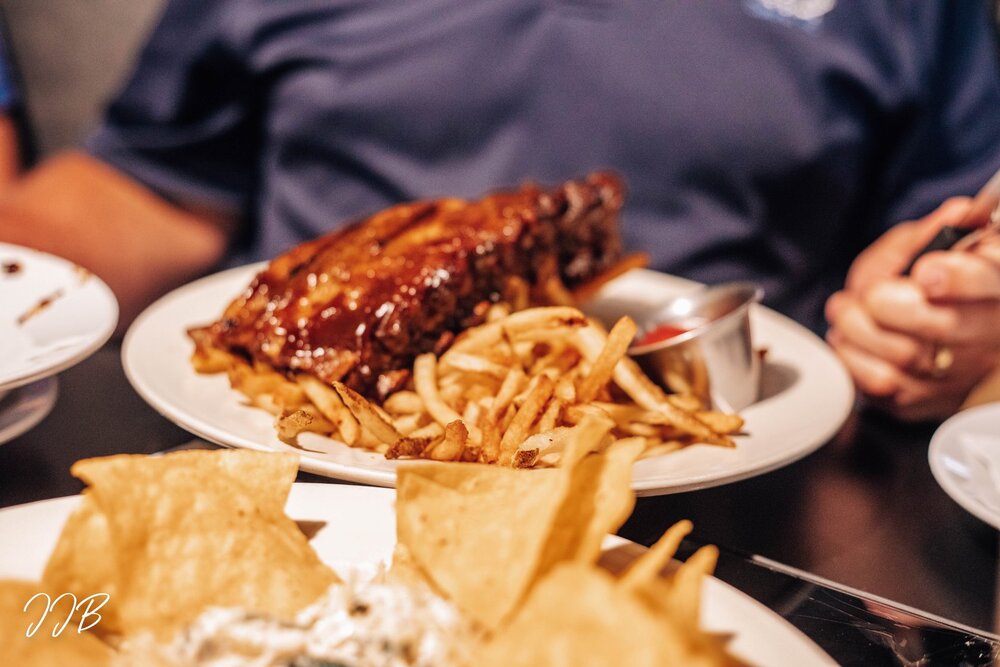 Rose and Daisy is located in Catawba, North Carolina, just a short fifteen minute drive from Sweet Tea B&B. It's owned by Gilda and her son, Eric, who came all the way from New York to chase this restaurant dream.
It's named after Gilda's grandmothers who came over from Italy to Ellis Island in the early 1900s. Her mission is to keep their love of food and people alive through the generational recipes and atmosphere in Rose and Daisy.
When you walk in you can truly tell that food and love speak the same language, so we instantly fell in love.
While we haven't tried everything on the menu, we're pretty confident it's all delicious. Everything we had was an easy 10/10, so you really can't go wrong.
Their homemade garlic bread is to die for! The Gnocchi Sorrentino is soft and pillowy with the smoothest ricotta ever made. The Pasta Michelangelo is creamy and delicious. The Chicken Francese is tender, lightly breaded, and seriously some of the best chicken we've ever eaten. The cannolis are crispy, creamy, and simplistic in all of the right ways. And the cheesecake, y'all, the cheesecake is amazing.
Everything is homemade with love and you can taste the difference.
If you want to know more we made a separate blog post and video for Rose and Daisy.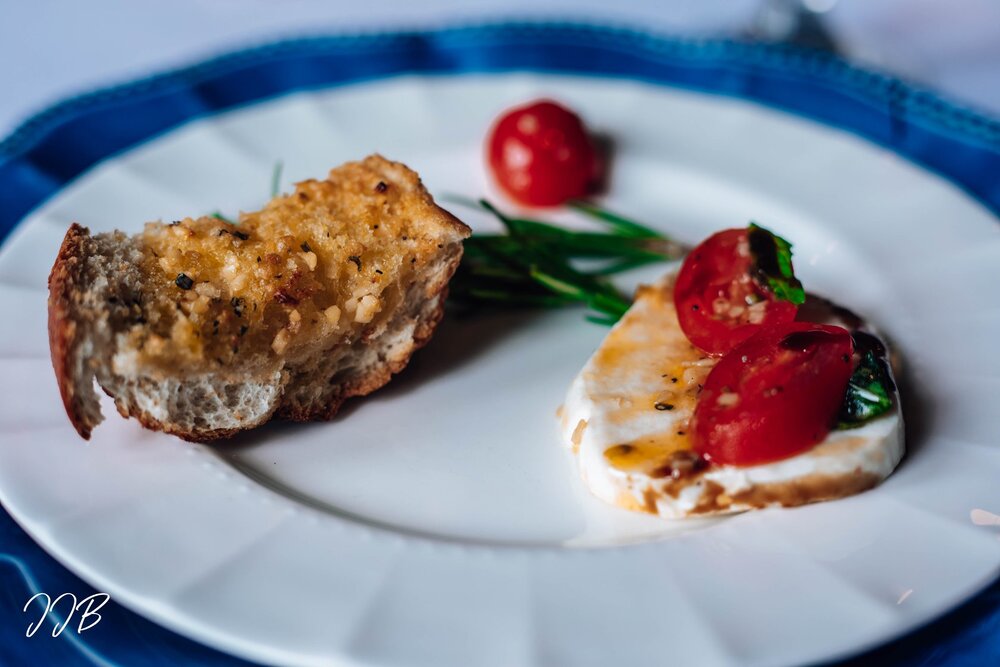 Cafe Rule is in Hickory, which is only sixteen minutes from Sweet Tea B&B.
It's a little pricier, but you're definitely paying for the thoughtful food and atmosphere.
When we walked in we were struck immediately by how beautiful it is inside. Everything is so carefully decorated and placed. Everything from the unique light fixtures to the exposed stone to the rich blue booths and chairs. It's absolutely stunning and would make a great date spot.
The menu items are on the upscale side. For example, our appetizers were a citrus crab cake and the broccoli baffle, which is roasted and served with cashew aioli. They were both phenomenal!
Even though there are things on the menu that are a little more hoity toity, they do have something for everyone. Joanie B. had a delicious ribeye and Jenni had the most delicious blackened chicken pasta.
For dessert, if you're someone who likes something more savory and salty, they have the popcorn ice cream. But we loved the churro waffle ice cream sandwich with cinnamon cayenne ice cream. So good!
If you're looking for a fun space for an event, they offer a Chef's Table experience that is unmatched. Learn more here.
You can also get a more comprehensive review from the blog post we did on Cafe Rule.
If you're looking for something more casual and familiar, B-52s is an awesome option in Newton! It's named after owner Mitch Ball and his high school football number (52). He saw the obvious military connection and ran with it, making B-52s a patriotic bar and grill with menu items like Freedom Fries and Stinger Missile Sauce.
They even have a Wall of Heroes where the pictures of locals (and others who come to the restaurant) who served in the military are displayed with pride. The entire wall is nearly filled and it's a beautiful sight.
The stand out menu items are the burgers. They have a ton of options and there's something delicious for everyone.
If you want to know more, check out the video and blog post we did for them.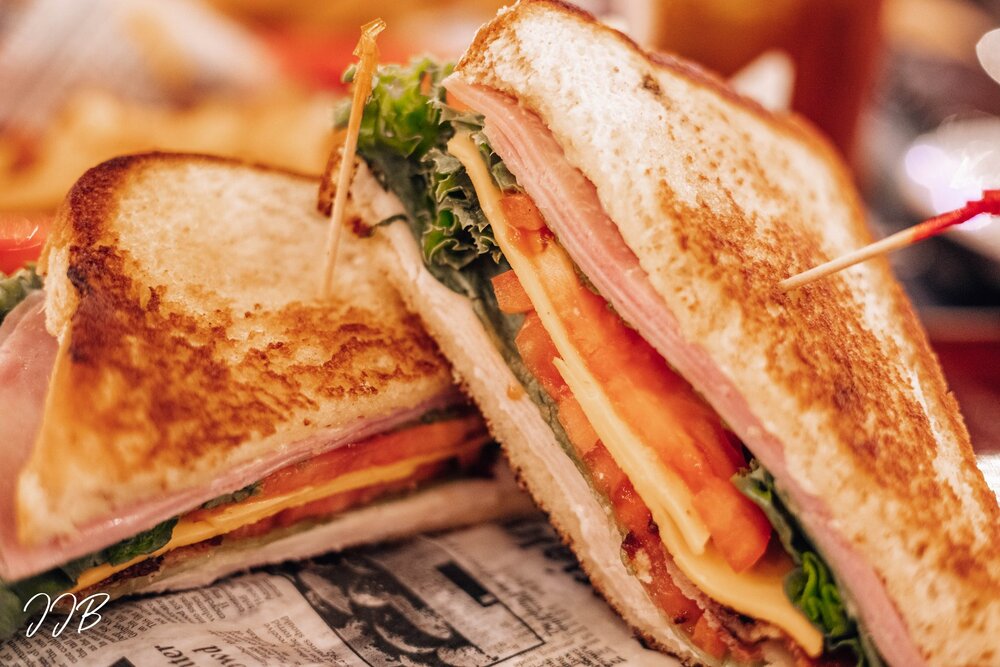 WHAT TO DO
There are a ton of things to do in the Conover area. Everything from furniture shopping in the furniture capital of the United States (High Point) to hiking and outdoor activities.
While we were in the area, Patricia and Ralph of Sweet Tea B&B took us around and showed us some awesome things to do. We're highlighting four of those for you in this post.
I know this sounds so strange. We thought so too. But hang with us.
Manufacturing Solutions is in Conover (just down the road from Sweet Tea B&B) and they do exactly what the name suggests. They manufacture socks and other products, which sounds like a snooze fest. But it's not!
Patricia from Sweet Tea took us for a tour on our first full day in Conover and we were stunned.
They take products, like socks, and make them from thread to finish. Once the sock has been manufactured they test it against things like temperature, sweat, moisture, stains, washing and drying, and more. They want to see how the socks (and other garments) react when they're on an actual person.
How will it hold up against washes? Does the color fade?
How does it react when a person sweats or gets rained on repeatedly?
How does it do in high humidity, frigid temperatures, or dry heat?
If they find problems with how the garments react, they fix it. They want to make sure that the person wearing the garment is protected and that their socks, shirt, etc. won't fall apart on them or grow bacteria. It's a fascinating process that you can learn more about on this video.
Manufacturing Solutions also has an incubator where people can come in and develop incredible products. We couldn't film in there (and we can't really talk about the products), but it's a great opportunity for aspiring entrepreneurs. They have people from all over the world coming to grab a space.
We had a quick tour of an empty Hickory Museum of Art. When we ventured in they were still closed due to the pandemic, but they are open again!
They have some incredible exhibits with classic realism, colorful cartoons, steel cutouts, pottery, and paper mache style sculptures.
Of course, if you're not into art museums this might not be the stop for you. But we will say that it's unique. The art is so versatile and there's something for every taste. The museum is also quite large, so there's lots of space to explore and experience the different art.
We loved the steel cutouts (pictured below) and were completely fascinated by them.
Exhibits are constantly changing so it's not a one-and-done experience.
In the same building as the Hickory Museum of Art is the Catawba Science Center. They, unlike the art museum, are still closed at the time of writing this post (September 4th). We'll attempt to update this post when they reopen, but you can always check their website as well.
Over the years we've been to quite a lot of science museums across the country, and we thought we'd seen it all. However, the Catawba Science Center has a ton of awesome exhibits for kids of all ages (even 23 and 53!).
The museum is broken up into different sections so it's easy to find what you or your children like. They have an interesting space area, garden, kids playground, movement (i.e. pendulum), little kids area (3 and under), the Gross Lab, and several animal areas.
Our favorite spots were the Gross Labs and animal areas.
The Gross Labs has lots of fun, interactive activities educating you on viruses, the digestive system, bones and muscles, surgery, and more.
As far as animals, they have several different areas where you can find them. In the main area of the Science Center you'll find animals like lizards, opossums, and more. If you venture over to the aquarium you'll find three gorgeous tortoises roaming in a tortoise size fenced area where you can still pet and interact with them. They also have various fish, sharks, stingrays, and more. It's amazing!
As if that's not all cool enough, they even have a planetarium, which is amazing for a science center in a town the size of Hickory.
They've utilized their resources and space to the fullest potential.
Just like the art museum, they have exhibits that change and rotate, so you can keep coming back!
MURRAY'S MILL
Murray's Mill is in Catawba, and it's operated by the historical association. On the property they have several historical homes, a general store, and the mill, which still has a working water wheel.
The main uses of Murray's Mill are educational purposes, events, and photographers can also use the space. The education comes into effect with the mill itself, learning how it was used and the full process. You can also see how people like John Murray, his family, and other community members of Catawba used to live. As far as events, they host everything from fall festivals to Christmas tree lightings. On top of that, it's a great place for photographs. They allow photographers to come in and hold shoots on the grounds and inside the historic homes.
Murray's Mill isn't the only historic site the society operates. They also have the History Museum of Catawba County, Harper House, the Bunker Hill Covered Bridge, the Michael Weidner Cemetery, and the Haas Cemetery.
You can learn more about Murray's Mill on the Historical Association of Catawba County's website.
We got our tour from Susan and Beau and they're both sweethearts! They even put together a HUGE gift bag for us with all kinds of yummy things from their general store.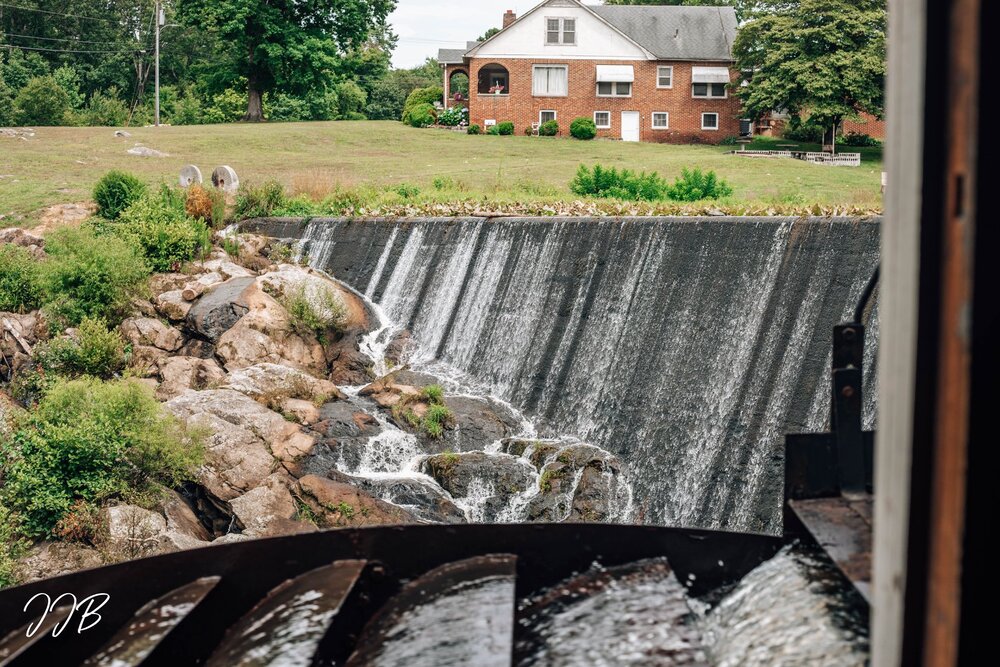 BONUS
Since they're not exactly attractions, we had to add a bonus section for some shops we visited in downtown Conover. There are a ton of places to check out, but we're highlighting the two that Patricia of Sweet Tea B&B showed us while we were there.
Here you'll find everything you could possibly want embroidered.
They have kids clothes, baby items, bags, masks, coolers, notebooks, and so much more. The owner was kind enough to give us both a little goodie bag of items from the shop, and when we popped in to introduce ourselves we bought an adorable cooler. Of course we had #heyyall embroidered on it.
If you find something you like they would be happy to ship to you.
This is an adorable local, family-owned business. They have homemade baked goods and other local products.
While we were there we picked up a plethora of cheeses (all delicious) and some other local cookies, peanuts, apple butter, etc.
CONCLUSION
The Conover area is proof that small towns aren't boring. There are amazing things to do and see, places to eat, and people to meet.
If you've already planned your trip and that's why you've stumbled across this post, you're going to have such a fun time! Feel free to comment any additional things you want to add or things you did.
If you're randomly here, hi! Conover and the surrounding areas is an awesome place to visit, and we hope this post inspired you!
A HUGE thank you to Ralph and Patricia Hatch of Sweet Tea B&B for building us this itinerary. This wouldn't have been possible without you. And thank you to all of the lovely people we met in Conover.
Pin this post with the graphic below: