Y'all know we had to pick this beauty of a B&B when we saw the name! Sweet Tea B&B is everything you'd expect a down-home Southern bed and breakfast to be.
Owners and innkeepers Patricia and Ralph treat you like family while you stay with them, and there's no doubt in our mind that you'll feel right at home.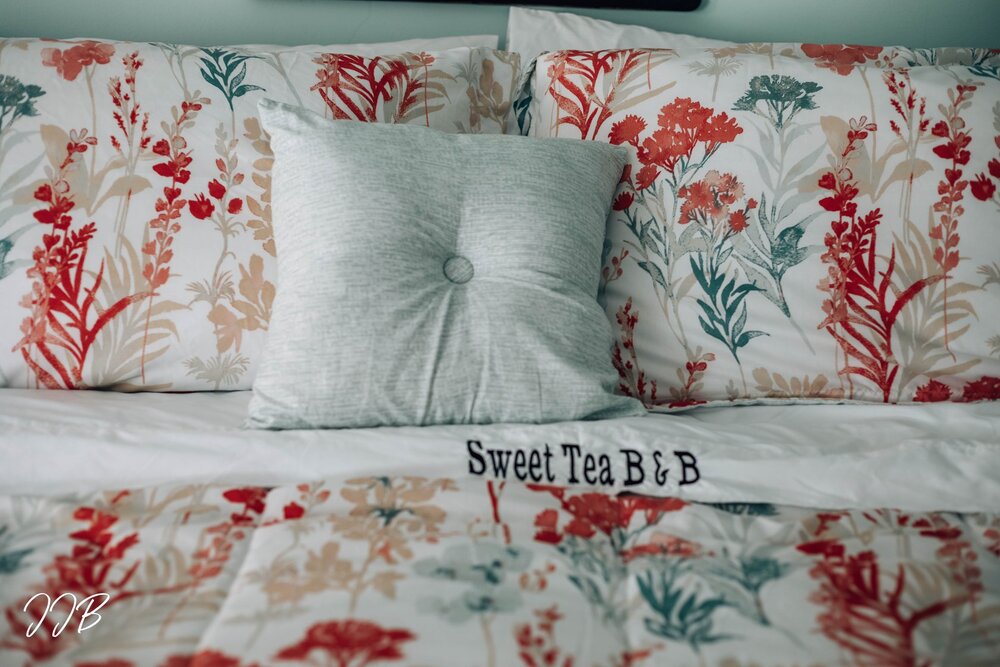 Sweet Tea has four incredible rooms available. If you stay in the Hickory room (like we did) there is a Jack-and-Jill bathroom that attaches you to the Claremont room, which has two twin beds. This is perfect for people traveling with children. However, if like us you only want the Hickory room, the Claremont room will be closed off. This is how they ensure everyone has a private bathroom.
If you forget anything, and I mean anything, Patricia and Ralph have you covered. If the item you need isn't already in your room, just ask them and they'll get it for you.
While on the subject of bathrooms, their soap is amazing! It's made special for Sweet Tea B&B and it'll leave your skin feeling so soft and moisturized. We loved it so much we brought home a bar for ourselves.
All of the bedrooms and bathrooms are unique, but they all have at least one sweet tea themed item. Can you find them all?
When you stay with Patricia and Ralph, you have free rein of the house. Downstairs that means access to two adjoining sitting areas. One has some comfy chairs and the other, locally made couches that you'll never want to get out of.
The dining room is used for breakfast, and Ralph goes all out with delicious food. Every morning the table was filled, and there were only two of us!
Through the kitchen you'll find a pantry stocked with snacks, sweets, drinks, and cookies (or other baked goods) that are available to you 24/7. We've never stayed at a bed and breakfast that had so many snack and drink options to enjoy in between meals. We're talking chips and crackers, full size candy bars and sodas, and the yummiest cookies you'll ever eat. Thanks, Ralph!
We had the most beautiful time at Sweet Tea B&B. Ralph and Patricia were gracious hosts, and their property felt like home the minute we walked in. Everything was clean, inviting, and we didn't want to leave.
We can't wait to go back and get cozy in those beds, wake up to yummy breakfast, and grab cookies for a late night snack.
If you're in the Conover, North Carolina area, stay at Sweet Tea B&B. You will have one of the most amazing bed and breakfast experiences of your life.
A very special thank you to Patricia and Ralph for allowing us to come in and feature your amazing B+B. We can't wait to come back to Conover and stay with you again.
If you'd like to support this wild ride, become a Patron, we have some awesome reward tiers. Sometimes we even pick up little gifts for you along our travels.
Pin this post with the graphic below: